Magnetic drawer are ideal for removing medium and fine ferrous contaminants from a range of dry free flowing products. They are widely used in food industry and chemical industry. Magnetic bars inside housing emit high magnetic field across the gaps between them. When material flows into the top of the housing, it is forced to cascade in a zig-zag pattern from row to row over the magnetic tubes, which ensures maximum tramp metal captured since the product comes in direct and repeated contact with a magnet as it travels through the housing.
Features:
1. Finishing: Fine polishing and well welding to meet food grade.
2. Material: All the frames and housing are stainless steel with seamless steel tube
3. Magnet: High strength rare-earth Magnet.
4.Working Temperature: Standard working temperature is less than 80 centigrade, but if high temperature is required, we can offer up to 350centigrade to meet your special applications
5. Type of mounting: Round or Square, flange or quick release clamp are decided by customer
6. As rare earth magnets are extremely powerful and tramp metal is very difficult to remove by hand. We are ready to offer you an easy-clean design type drawer magnet.
7. Customer designs, specifications can be fulfilled.
Rounded Flange: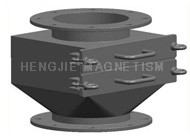 Overall Dimension Diagram: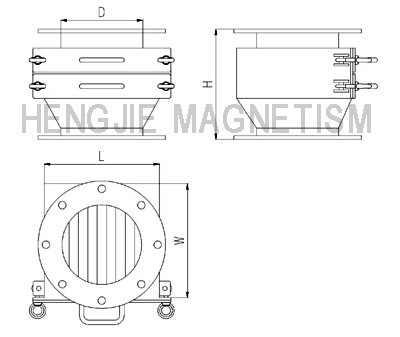 Technical Parameter Table: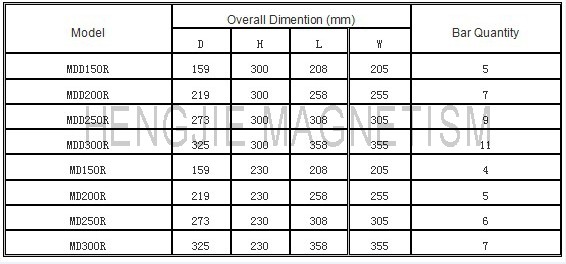 Square Flange: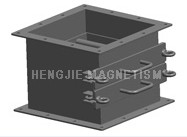 Overall Dimension Diagram: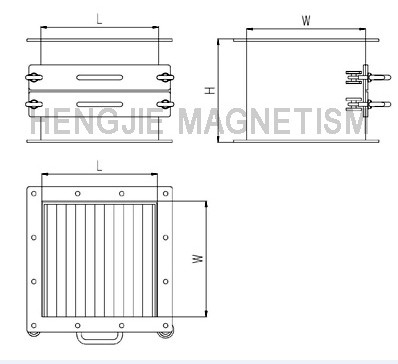 Technical Parameter Table: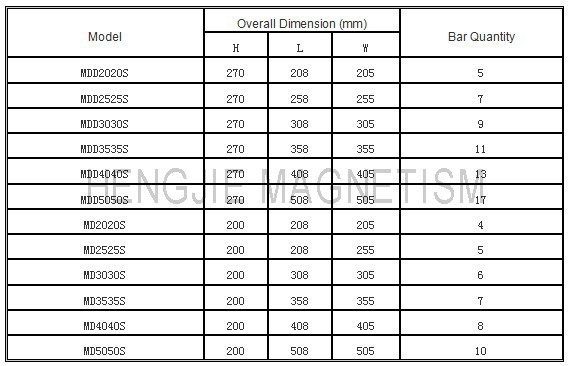 Remark:
"MD" indicate magnetic drawer,"D"indicate double magnetic grates,"R" indicate rounded flange,"S" indicate square flange.