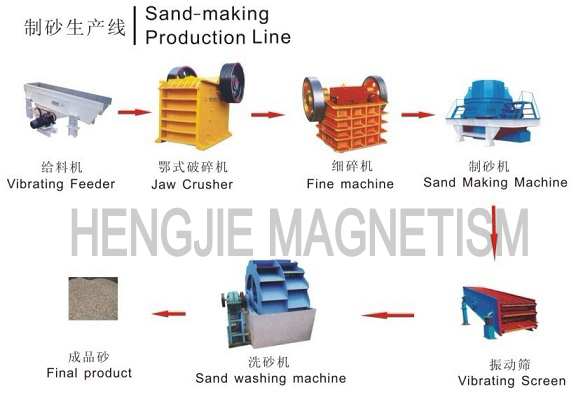 Production Flow:
Stone materials are evenly sent by vibrating feeder to jaw crusher for coarse crushing and the coarsely crushed materials are sent to the fine jaw crusher for further crushing.
Production Capacity:50-520t/h
The Major Equipment of Sand Production Line:
Sand making production line is generally composed of vibrating feeder, jaw crusher, vertical shaft impact crusher (sand maker), vibrating screen, sand washer, belt conveyor and centralized electronic control.
The Advantages and Benefits of Sand Production Line:
It is highly automatic. The efficiency is high, operation cost is low, crushing ratio is high, capacity is high, and pollution is very low. Size of final product is even, and with good shape, which complies with requirement for highway.