CXJ series single drum permanent magnetic separator is a automatic separate iron equipment. Its internal designed a unique magnetic circuit, used the high-performance NdFeB rare earth permanent magnet material as magnetic source, the magnetic field strength strong, big suction,with a maintenance-free, energy conservation, the use of safe and reliable, feed can adjustable for different particle requirements. The products are widely used in abrasives, refractories, non-metallic mineral processing, carbon black, food, chemicals and other industries.
Product Features:
* Transmission uses the Direct mode, the drum can removable, no need dismantle the machine, low failure rate.
* NdFeB material for the magnetic source, high magnetic field strength, evenly distributed.
Working Principle: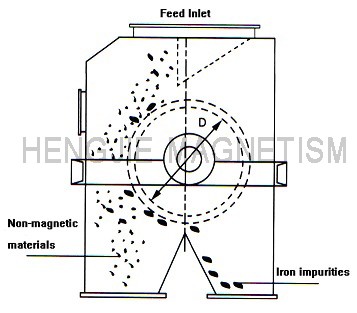 Parameter table: