GJT-1F series metal detector made by a dedicated chip digital circuit technology,use for the detection of harmful metals in magnetic bulk materials. Iron ore grade that were detected can reach to 60%, It can adjustable for ore grade, may digital setting, with a self-test function, easy to adjust and maintain. sensitivity adjustment is intelligent, So that efficient detect the metal and remove it, improved product quality and ensure the safety of crushing equipment.
Technical characteristics:
* High-speed digital signal processors and intelligent algorithms to improve the detection accuracy and stability.
* Using phase adjustment technology, can effectively inhibit the product effect.
* detectable iron, stainless steel, copper, aluminum and other metal materials.
Overall Dimension: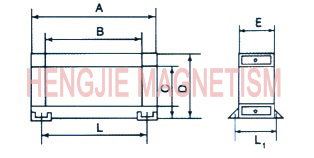 Technical Parameter Table: