RCDA series Air cooled electromagnetic separator of internal excitation coil is cooled by the air conditioning cooling blower or the axial fan forced air cooling, air conditioning cooling blower is suitable for the separator work environment clean, the axial fan forced air cooling is suitable for the hostile working environment (such as dust, coal dust ), this model has a simple structure, easy to use, low failure rate, the use of a widely range, adsorb iron from any material on the conveyor, provide a protective effect for the various types of crushers, grinding machines and other equipment.
Product Features:
* Computer simulation design. Simple structure, easy to maintenance.
* High magnetic field strength, large power, large magnetic penetration depth.
* Adopt axial fan for excellent heat dissipation, electromagnetic coil low temperature rise.
Dimensional sketches and installation sketches: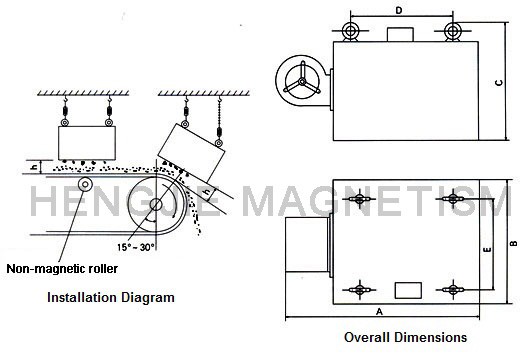 Parameter table: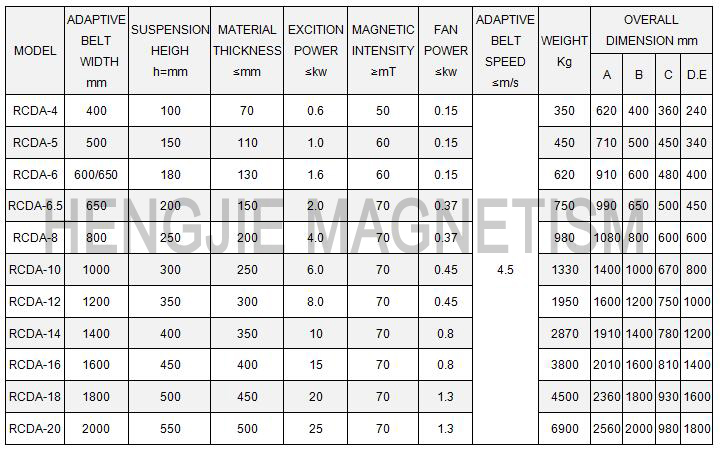 This magnetic separator have high intensity model: T1 magnetic strength is 90mT, T2 magnetic strength is 120mT ,T3 magnetic strength is 150mT.