RCGZ series chute self-cleaning separator is a high-performance automated magnetic separation equipment, It be widely used in cement, ceramic, brick, chemical, food, glass, metallurgy, steel and other industries, It is one remove iron equipment for material purification and ensure follow-up safe operation of equipment.
It is composed of three parts of the chute body, the drive device and magnet running device.The drive device is installed in the chute wall, The magnet running device is drived by the drive device of sprocket, chain, magnetic material be discharged to the taphole through magnet running device.
Because magnetic circuit running, so the structure to increase the area of magnetic circuit,with the unique separation mechanism, a more thorough separation of tramp metal. With high temperature, strong magnetic NdFeB rare earth, high magnetic field strength. The machine is connected in conveying pipe, flange connections, easy installation. Automatic adsorb iron and unloading iron,Permanent magnet to a magnetic source, without power consumption, low-power electricity slagging, very low power consumption, compact structure, stable and reliable.
Overall Dimension Diagram: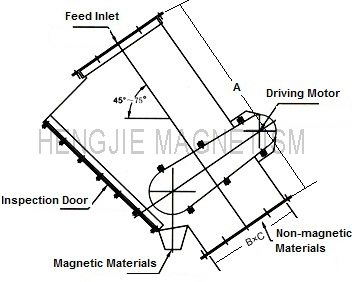 Technical Parameter Table: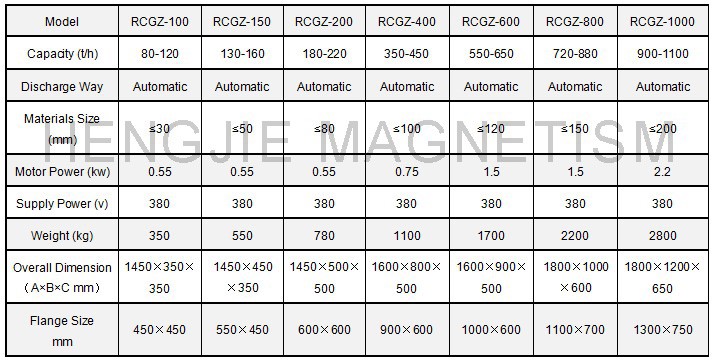 Remark:
The magnetic intensity of the product has: 1000GS,2000GS, 3000GS, 4000GS, 5000GS, 6000GS, 7000GS,8000GS and so on. Must be decided when ordering.