RCDB series dry electromagnetic separator (also known as PDC Series, RCDY series) pick up the miscellaneous iron from the non-magnetic materials of powder or lump. Its internal is filled by electrical casting resin, self-cooling hermetically sealed structure. Have heavy depth of penetration of magnetic field, strong suction, dust-proof, water-resistant, corrosion-resistant features, and reliable operation even in extremely harsh environments. The main performance indicators are above the JB/T7689-2012 standard, the products can remove the 0.1-50 kg ferromagnetic substances.
Product Features:
* Computer simulation design, large magnetic penetration depth, strong suction.
* Low power consumption, low temperature rise, low failure rate.
* Good sealing performance, with prevention dust and sun, and corrosion resistance.
Dimensional sketches and installation sketches: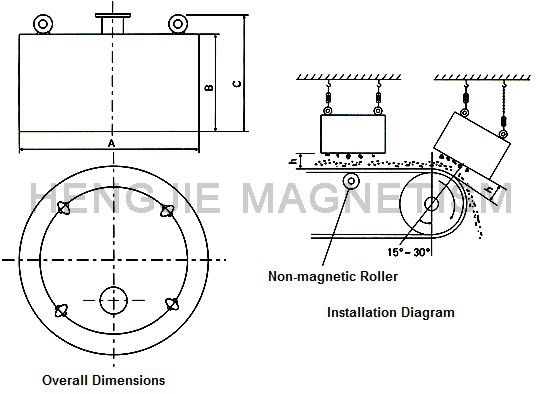 Parameter table: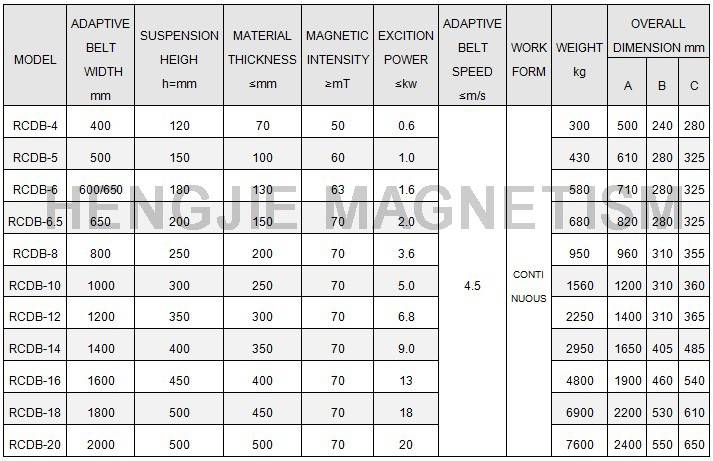 This magnetic separator have high intensity model: T1 magnetic strength is 90mT, T2 magnetic strength is 120mT ,T3 magnetic strength is 150mT.