DCFJ series electromagnetic dry powder separator is mainly used the fine powder compound to remove weakly magnetic oxides,Used in ceramics, glass, refractories and other non-metallic mineral, pharmaceutical, chemical, food and other industries for purification materials.
1, a simple connection:The main engine vibration during operation, the raw material input and output can be taken over by the outer pipe or canvas bags.
2, removal of the no easy flow of the fine powder: under the action of the vibration motor, the volume is less than 200 microns or high humidity raw materials can be consistent through the sieve.
3, high temperature materials processing: the standard models can handle raw materials of temperatures to 70 degrees Celsius,The special models can be used to deal with the higher temperature of raw materials.
4.Installation simple: as long as the bracket is firm, then the equipment can carry out any installation.
5, the magnetic filter sieve cleaning convenient: a tray placed at the outlet of material used to recover the materials that are separated, and turn off the power at the same time in order to give the sieve degaussing and easy cleaning work.
6, the complete separation the iron and basic materials: basic materials will not enter the separation box.
7.The coil is cooled by oil and water to work temperatures in good order.
Working principle: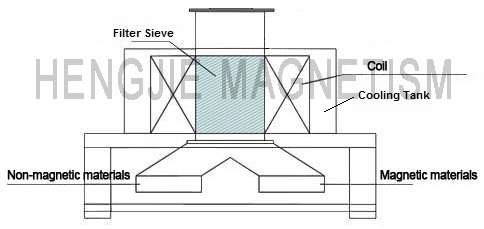 Parameter table: