Performance characteristics and uses:
1, DCSJ series pulp electromagnetic separators using pure oil-insulated external water cooling, experimental magnetic field strength 25000 ~ 30000GS, powerful suction,not only can remove mechanical iron that the raw material in the grinding process produces, and generally the iron oxide (Fe2O3) can also be removed.
2, Low energy consumption, simple operation, this is a automatic type machine,the raw material into the magnetic chamber from the feed port, through the 30 suction strong magnetic chip, after the remove iron,the raw material be discharged from outlet. chelating Iron convenient,close magnetic cavity power switch, the magnetic chips lose their magnetism, open water valve to let the water is full of magnetic cavity, opening the discharge iron valve, the ferromagnetic substances outflows from the taphole to complete the whole process of iron removal.
3, Widely used, especially for 50 mesh - 1000 mesh ceramic materials, such as the glaze, mud, paint, feldspar, kaolin, quartz sand, silicon carbide and coal-water slurry, emulsified oil, chemicals, food and other industries,that can flow ferromagnetic substances.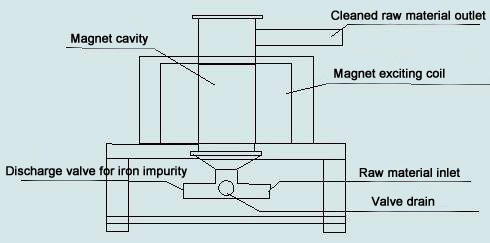 Technical Parameters Table: